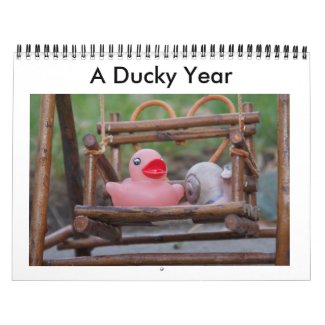 A 12 month Rubber Duck Calendar
by
duckyplanet
Create a unique
custom calendar
online at zazzle.com
This article describes a rubber duck art exhibit.  It features all manner of rubber ducks including actual ducks and various pictures of ducks.
Here is the link – Rubber Duckies: They're not just for bath time anymore.
For those of you new to the idea of a 365 day photo project, the general idea is that you take a picture of the same thing every day for a year. In my case I chose a rubber duck that has been with me everywhere. I'm currently on picture 278 and I'll attach it to this post so that you can get an idea about what I'm doing.
All of these pictures are in a Flickr album for you to see. If you'd like to go directly to my set there here it is: